It is the best day of our year, and you can feel it the moment the sun breaks through the early summer sky. There's a buzz amongst the kids. Showers are taken with particular energy. Clothes are chosen that are rarely worn the rest of the year. The teenagers dress with flair: the older boys tuck in button-down shirts; the older girls put on a little makeup.
It's Graduation Day, a day of passage. And in a country where you are forced to stand still so much of your life, moving forward is a blessed relief.
This year we graduated four students from our bilingual academy – Djouna, Junie-Anna, Widley and Nahoum. All four are excellent students. The truth is, they were ready to go to college a year ago, but had to wait their turn. 
So they spent an extra year of study, and by this point they are chomping at the bit to see what comes next.
But first what comes is the pomp and circumstance. Literally. We play that march composed by Sir Edward Algar over a single speaker that sits in the grass, powered by a long extension cord. The kids line up with their teachers. They walk across our yard, enter under a rented tent, and move down the aisle, past their brothers and sisters and towards their future.
And we sigh.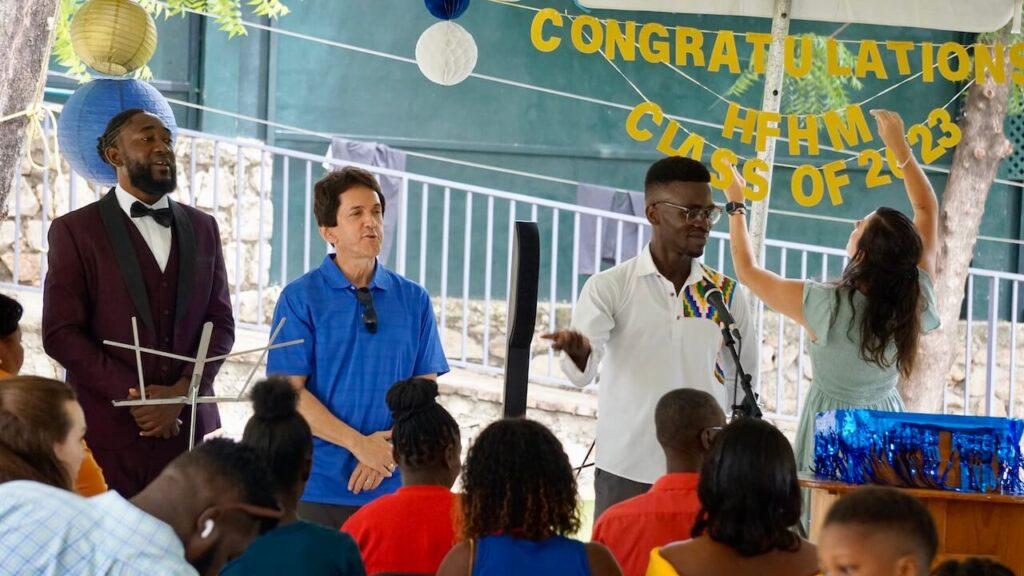 Seedlings turn overnight to sunflowers
For many years after taking over the orphanage, we never spoke of completion. Every day was a new challenge that led directly into another one. Once you took care of the water situation, you had the food situation. Once you took care of the food situation, you had the gas situation. 
This kid came down with an illness, you addressed it. Another kid had a behavioral issue, you addressed that.
Life at the orphanage was a loop. Nothing finished. It just got bigger and more complicated.
But as we read in Peter Pan — or sing about in "Puff the Magic Dragon" — a moment comes when kids grow up.
And you are forced to consider how you got here.
The first graduation from our school, three years ago, was a single student, Edney, who made a speech holding his cap on his head against a hot summer wind. Edney attended Madonna College in Livonia, Michigan.
The next year we graduated four students, who all received scholarships to Hope College in Holland, MI. They all came through freshman year well, with several on the Dean's List.
This year, four more donned the cap and gown, two with scholarships to Hope, two more with scholarships to Hillsdale College.
And as each one stepped to podium to address the group, I saw in my mind the childish version of the young adult I was looking at:
I saw the wide and silly grin of a little boy named Nahoum, who was already in the orphanage when I arrived in 2010. Now here he was, 18 years old, with a deep voice, saying, "It is a great pleasure to stand here as a graduate, a brother, and a leader. I have been looking forward to this day – and here it is."
I saw the big eyes and braided hair of a skinny little girl named Junie-Anna, who now was a fully grown woman of 18, with long flowing locks, who spoke without the hint of an accent in her English: "As I stand before you clad in cap and gown, I look back on my years in school. Some days, I was on top of my game. I got good grades. But other days I slacked off and I struggled. But if I am here today, I must tell you. I did not make it on my own…"
Blossoming even as we gaze
I saw a shy little boy named Widley, who was covered in scabs from bug bites and needed special cream applied to his legs and arms for years, and now here he was, one of the most brilliant students I've ever met, elocuting as if he'd grown up in Cambridge:
"First and foremost, I want to honor the presence of our esteemed directors, our wonderful teachers, and our ever-growing family…I feel immense gratitude to all of you for helping me overcome the trials and troubles that I faced in the past…"
And, finally, I see the goofy smile of a little girl named Djouna, who came to us at five years old and has blossomed into an intelligent, sensitive 17 year-old who writes incredibly well and is brave enough to say this in front of a crowd:
"As I stand here before you today…I am thinking about my father. Yes, I have one. 'Well where's your father, Djouna?' I don't know. 'Where is he?' In Haiti somewhere. Alive, I believe. I haven't seen him in 13 years.
"But if you ask me what if feels like to have 60 plus people replace this one single person called my father, I would tell you why even ask?  It feels really good. It feels like my life has meaning. Because without his new family, I wouldn't be standing here today…"
One season following another
My own father used to sing a song at family events like weddings. It's called "Sunrise, Sunset" from the musical "Fiddler on the Roof." I used to think it was the hokiest song ever. I cringed when he sang it.
But as I age, I recall the words, sung in my Dad's powerful baritone voice, and they hit me like a smack to my face:
"Is this the little girl I carried?
"Is this the little boy at play?
"I don't remember getting older,
"When did they?"
That's what Graduation Day is for me, for our staff, for our kids. The little ones from the endless loop have grown up. In a few weeks, they will be leaving our orphanage, heading north with me to start college and a new chapter in their lives.
They will be nervous. They will be anxious. They will be excited.
But the best part — and the reason Graduation Day is such a special day for us — is that these kids will feel hope. 
Hope. Without it, we are parched. We wander aimlessly. So much of Haiti lives without hope, and is desperately thirsty for it.
We are so grateful to those of you who allow us to spread this hope, to experience the sunshine of the graduation morning, the cheers of the other kids when we announce "You are graduated!", or the pop song that the teenagers sing, arm in arm, as they let go and wave goodbye to the ones who will be leaving.
"As we go on
"We'll remember
"All the times, we had together."
Moving forward — in a country where backward is the common sensation. Best day of the year. Thank you for helping to make it possible.