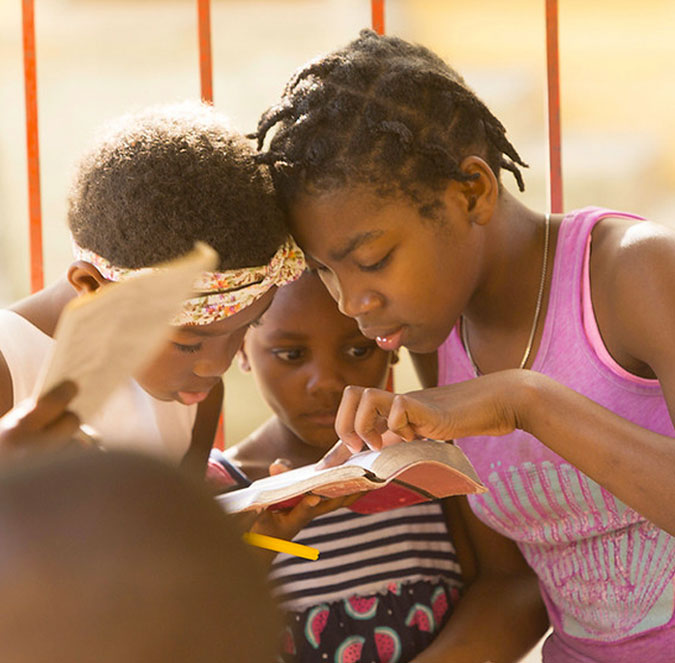 The Have Faith Haiti Mission & Orphanage is a special place of love and caring, dedicated to the safety, education, health and spiritual development of Haiti's impoverished children and orphans. The Mission was founded in the 1980's as The Caring and Sharing Mission. Since then, it has raised and cared for hundreds of children, some of whom now work there caring for the next generation.
Following the devastating earthquake of January, 2010, the mission fell upon hard times, and later that year, operations were taken over by author Mitch Albom and his A Hole In The Roof Foundation, and the name changed to Have Faith Haiti Mission, inspired partly by Albom's book "Have a Little Faith."
One Life Touches Another
a mini-documentary

The goal of the mission is to provide a safe, nurturing environment for Haitian children who do not have one. Children are cared for medically, nutritionally, educationally and spiritually. They are taught in both French and English, with a goal of achieving a college or vocational degree. Haiti to help tChristian prayer and guidelines are a part of their daily life, as is a sense of giving back to the mission through work and responsibility.
Thank you for interest in the Have Faith Haiti Mission. I have been blessed to see much of the world; nowhere have I seen greater despair – or greater hope – than in Haiti. For relatively little money, we truly can save children. One life touches another and affects it indelibly. I have written that. I believe that. And this mission is proof of it. Bless you for your help.
Help is needed more now than at any time since the earthquake itself. We have the luxury of forgetting. Haiti and its children do not. Hear the stories from our kids
Fundraising Goals
(est'd. annually)
School .  .  .  .  .  .  .  .  . $22,000
Food Budget .  .  .  .  .  .$17,000
Teaching Staff .  .  .  .  . $19,000
Medical, Dental  .  .  .  . $16,000
Water, Electric .  .  .  .  .$12,000
Security  .  .  .  .  .  .  .  .  $6,000
Sponsor a Child
Sponsor a special child like Angeline.
You Can Help
Have Faith Haiti Mission exists on donations. All money raised goes strictly into the operation of the mission, from purchasing food to paying for schoolbooks.
Finding Chika: A Little Girl, an Earthquake, and the Making of a Family
"Unadorned, heartwarming…the takeaway from this simple, moving memoir is that love has no boundaries and should not be hindered by ethnicity, religion, education, or money. A highly expressive, tender story about how 'families are like pieces of art, they can be made from many materials.'"
– Kirkus
The Chika Fund
at the Have Faith Haiti Mission
will cover life-saving medical costs and health care, including inoculations, nutrition, regular doctor checkups, medical tests and if-needed hospitalizations
Give Now
Learn More
As the calendar marked the decade since the 7.0-magnitude earthquake, we remember the day by giving voice to the memories of the children at Have Faith Haiti who have never forgotten. You can watch the short video below....
This spring, a photography elective was offered to high school students at the Have Faith Haiti Bilingual School. This is the first year a high school cohort and program were offered at the mission school, as the children have both gotten older and progressed...