PORT-AU-PRINCE — Faith comes from within, but that doesn't mean you can't import a little help. This week, the kids found themselves taking a class with a 73-year-old rabbi named Steven Lindemann.
"Who here knows who the first Jew in history was?" Lindemann asked.
"Abraham!" came the response.
Will miracles never cease?
Lindemann, who is a rabbi emeritus at a synagogue in southern New Jersey called Temple Beth Shalom (my childhood congregation) had been talking to me about coming to the orphanage for months. He is not the first man of faith we have hosted. Not even the first rabbi. A decade ago, Rabbi David Wolpe, of Los Angeles' Temple Sinai, came down and helped us put tiles on the floor.
We've had pastors and priests from both America and Haiti. Church groups will periodically visit. Still, as a Christian-based orphanage, it was interesting to watch the kids seeing Hebrew words drawn on a chalkboard, and hearing about ancient commentary on the Bible called the midrash.
I listened in as "Rabbi Steve" (as the kids now call him) told the story of Exodus, the Jewish people's escape from Pharaoh, and how the Egyptian army pursued them and perished in the Red Sea. The factual account, the kids knew from their Bible studies. But the midrash that Steve added was something new.
"After the Egyptian army was killed," he explained, "the Israelites rejoiced at being saved. And the midrash says the angels wanted to rejoice and sing with them. But God told them no. God said you should not rejoice because you (the angels) were never in danger. You were not saved. And you should not rejoice in the death of the Egyptians, who were my people, too."
Those were my people, too
I have heard that commentary before. I love it. I love it because it takes two peoples, two historical enemies, and shows that they are all one under the human umbrella, and in the eyes of God. Those were my people, too.
I think this speaks to why volunteers come to Haiti. Many of those who staff orphanages here, or operate NGO's, dig wells or make medical field trips, are not Haitian. They can't claim a national kinship with the people they aid.
But if we are all alike in the family of man, then anywhere you go, you are helping your people.
So here was Lindemann, who for 30 years stood on the pulpit in a spacious suburban New Jersey synagogue, now scraping chalk on the board in "Classroom 3" of our three-room schoolhouse. He had already endured an eight-hour plane ride, navigating a Haitian dinner, sleeping on an air mattress and being awakened before 6 a.m. by the machinery in the waste management plant on the other side of our wall.
Yet there he was, Thursday morning, his sliver hair topped with a yarmulke, his eyes twinkling with a teacher's delight, spelling the Hebrew name for Abraham (Avram) and explaining that it meant "great father", as 15 Haitian students wrote it down in their notebooks.
And a new wrinkle was added to their lives.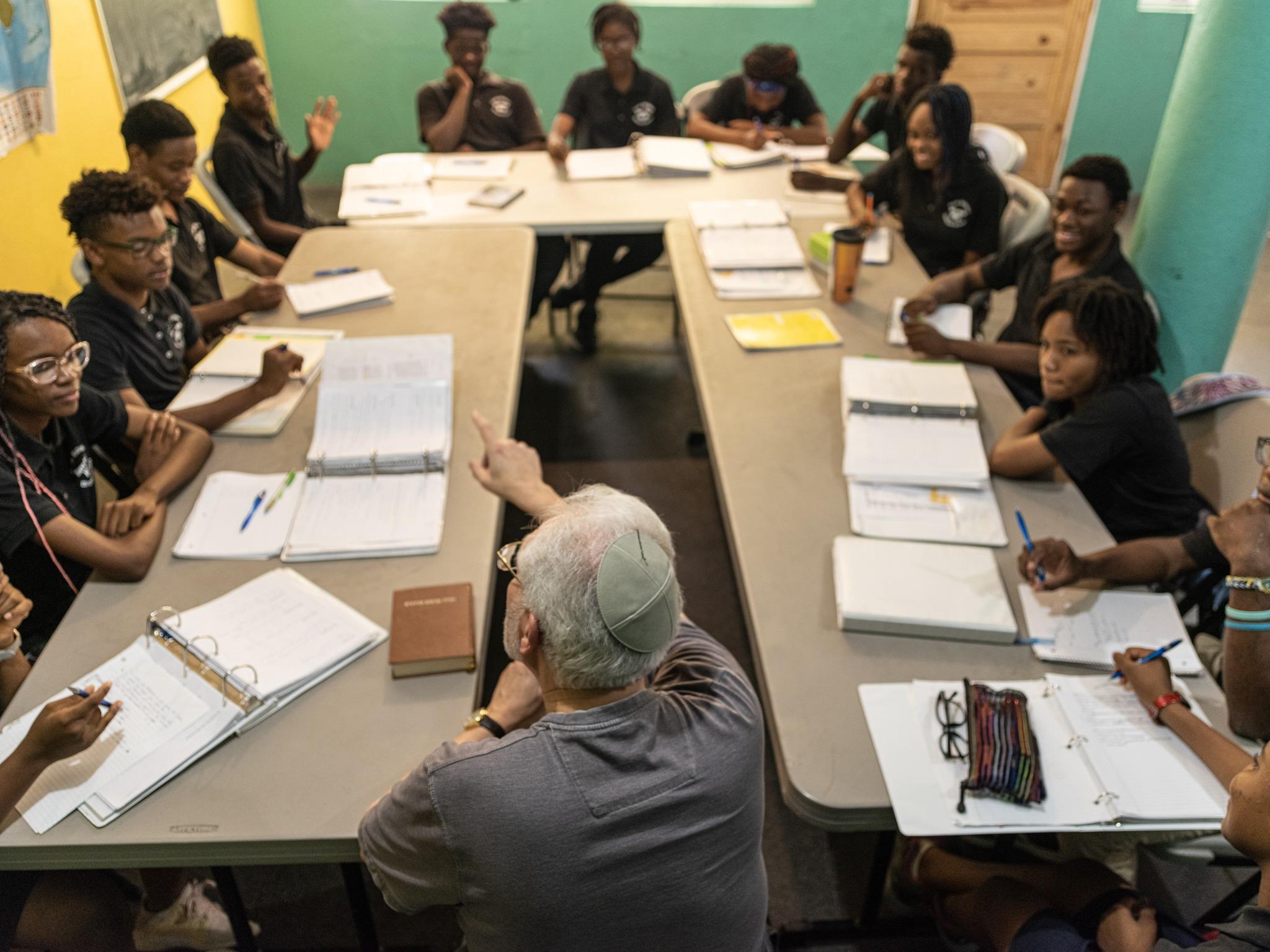 Photo credit: Brian Kelly Photography // Courtesy of Have Faith Haiti
Hungry to learn
What's the best you can do for your kids? Prepare them for the world. Let them know of its dangers, sure, but also its wonders, its vastness, its beautiful tapestry of people.
This is why I cherish visits from outsiders like Rabbi Steve, and why we invite so many people to come and spend a few days with our kids. Haiti these days is simply unsafe to navigate. The gangs that rule the streets make even simple trips a risk. COVID-19 is a silent, unknown lurker. Outside of two brief day trips last summer, our kids have not physically left the orphanage in two years.
Two years. The same third-of-an-acre view. The world can feel awfully small when you are stuck behind walls and a gate.
But when outsiders visit, teach, sing, perform, it's a glimpse of the world our kids are missing, a reminder that life is beautiful outside these walls as well as behind them. And one day, that world will be available, and it will be theirs.
When Rabbi Steve finished his first class, I asked him his impressions. A smile spread across his face. "They're very engaged and engaging kids. Asking good questions. And they are so focused. They want to learn. They're hungry to learn."
As he spoke, we watched the kids eating lunch at picnic tables in the yard. There were no cell phones. No selfies. No checking email. They were talking and laughing and eating. Pure childhood. I asked Rabbi Steve what made him want to come all the way down here.
"Well, first I wanted to see what you were talking about for so long, because you speak with such love about these kids." He paused and looked around at the peaceful scene, and I was reminded of the psalm that begins "How good and how pleasant it is that brothers dwell together."
"I guess," Rabbi Steve said, "I just wanted to make a small contribution."
A 73-year-old clergyman. A collection of young Haitian kids. A Thursday morning at the orphanage. Maybe miracles never do cease.